If there is one thing the people in the fitness industry seem to agree on, it's that eating adequate protein is essential for overall health. But did you know protein is a critical part of weight loss? Studies show eating protein can reduce hunger levels, boost metabolism and even stop late-night snack cravings.
While incorporating protein-rich foods in every meal can help you reach your protein intake, adding protein powder is an easy and convenient option. The only problem? Baking with protein powder can change the flavor, texture, and consistency of foods. Not understanding the best way to use protein powder is why so many people end up with dry, dense, and weird flavored snacks that aren't exactly appetizing. To help, we created this beginner's guide to baking with protein powder! Read on to get our top tips, best substitutions, and even our favorite recipes.
Related: How to read nutrition labels to identify protein amounts
Protein Powder Overview
The first step when baking with protein powder is a protein type and pick a brand. We will cover the most popular ones in this guide – whey, soy, pea, and combo blends but know there are many types/brands out there! We've also included our favorites to give you a starting point when making your selection.
Related: How much protein do you need?
Some of the information below links to affiliate websites. If you purchase a product, we may receive a small commission. Please know we do not take affiliate programs lightly and have only included these based on our positive experience with the product itself.
Whey Protein Powder
Whey protein powder is one of the most studied supplements in the world. It is one of the main proteins found in milk and is a top choice due to its amino acid profile and how quickly the body can absorb it. Whey is a complete protein but doesn't taste very good on its own, which is why it's often flavored with chocolate or vanilla. When choosing a whey-based protein powder, make sure to avoid those that contain excessive sugar. It's important to note that whey protein powders are NOT vegan so if you are looking for a plant-based protein option, keep reading.
Avatar's Top Choice For Whey Protein Powder
Impact Whey Isolate made by MyProtein
If you are looking for a quality whey protein that won't break the bank, this is it. My Protein went the extra mile and had an independent lab test their products, and this one passed with flying colors. It is super versatile and comes in various flavors, making it perfect for mixing in smoothies and baking.
Our Favorite Dessert Using Whey Protein Powder
High-Protein Chocolate Chip Cookie Dough Baked Oatmeal
If you have an untamable sweet tooth, this recipe is for you. It's packed with 38 grams of protein and tastes just like cookie dough! See how easy it is to make in the video below and get more recipe ideas from our Youtube channel.
Soy Protein Powder
Soy protein powders are made from soybeans and are excellent for vegans or those that are lactose intolerant. It also has nine essential amino acids needed to help the body build muscle and strengthen bones.
One of the notable drawbacks of baking with soy protein powder is the taste and texture. Soy has a very "nutty" taste that may not pair well with some recipes since it can change the flavor. People also report a "grainy" texture when baking with soy. These can be masked by using the right ingredients and flavors like banana, coconut, and chocolate.
One other thing to consider is that soy protein powder may not be the best choice for those looking to build and gain muscle. Studies show two amino acids are essential for building muscle – methionine and lysine. Soy protein powders rank very low for these amino acid profiles (unless added later).
Avatar's Top Choice For Soy Protein Powder
Soy Protein Isolate – MyProtein
With an impressive 26g of protein per serving and zero added sugar, the Soy Protein Isolate made by MyProtein is our #1 pick. It's also super low in carbs and comes in an "unflavored" option perfect for baking.
Our Favorite Dessert Using Soy Protein Powder
Decadent Chocolate Zucchini Protein Brownies
The nutty flavor of most soy protein powders goes completely undetected in this macro-friendly brownie recipe. Plus, the added zucchini helps moisturize the protein powder and keeps it from getting dry. These brownies are a must-try if you crave chocolate!
Pea Protein Powder
Pea protein powder is a popular vegan choice and has some additional health benefits like high fiber and iron. It also contains more branch-chain amino acids than other vegan protein powder options like soy and can work with every diet. The biggest drawback to baking with pea protein is that it has a strong earthy taste. It also ranks low in the amino acid profiles known to build muscle like methionine and can be "gritty" in texture when used in smoothies.
Avatar's Top Choice For Pea Protein Powder
Pea Protein Isolate – MyProtein
The pea protein isolate from MyProtein mixes easily, doesn't have an overpowering taste, and no added sugars. It's also super affordable compared to other options!
Our Favorite Dessert Using Pea Protein Powder
Perfect Peanut Butter Chocolate Banana Protein Muffins
Chocolate and banana are two of the best flavors pea protein can be paired with, making this a great dessert option for those who can't use whey! They taste great warm or cold, and are perfect for on the go.
Whey/Casein Combo Protein Powder
Combining whey and casein into one protein powder can be super helpful for those looking to lose weight. Whey is digested quickly and gives your body a satiating boost, while casein takes longer to digest. This combo makes you feel fuller, longer and spreads out protein digestion. A growing body of research shows that combo protein powders can help build muscle slightly faster by providing the needed nutrients throughout the day (or night).
Avatar's Top Choice For Whey/Casein Protein Powder
Any Flavor Powder- Devotion Nutrition
If you are looking for a high-quality, versatile, and great-tasting protein powder, Devotion Nutrition is the best option. Not only are the base flavors delicious in any form, but they also make flavor add-ins that make everything better. Every single one of our dessert recipes uses Devotion protein because of the flour-like quality and great texture.
Interested in trying Devotion Nutrition's protein powder? Use AVATAR at checkout and save 10%!
Our Favorite Dessert Using Whey/Casein Protein Powder
Macro Friendly Giant Monster Cookies
We're slightly biased and favor this protein powder option over all others, and that's why it's a staple in all of our dessert recipes. Choosing just one was really hard! We ended up going with these MONSTER cookies not only because they taste delicious, but you can eat the whole thing!
What Type Of Protein Powders Are Best For Baking?
Depending on how much protein powder you use, the taste/texture of whatever you are making can change slightly. The brand you use can also impact the final result. The key is finding recipes that will pair well with the overall taste and texture of the protein powder you use. We compared the taste, flavor, and texture of your top protein powders (above) to give you an idea of how to use each one.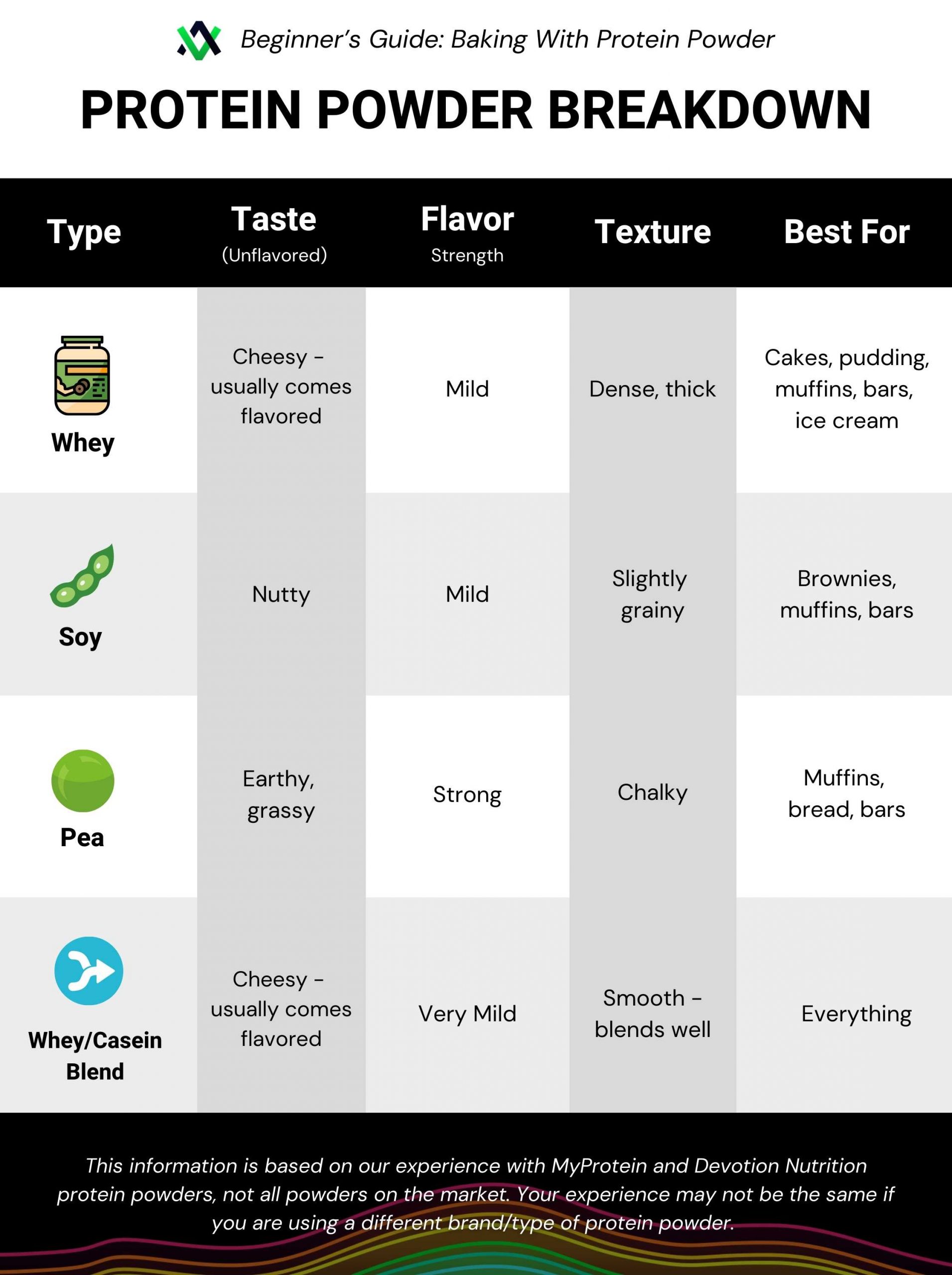 Whey/Casein blends are our favorite due to being almost undetectable in foods. Still, we know this may not be an option for everyone due to allergies and preferences. With that said, there is no single "best protein powder for baking" – it's all about your personal preferences and taste.
Finding the best protein powder for baking can turn into an expensive problem. We suggest buying several sample packs if it's your first time baking with protein powder. Most samples are single servings and will be enough for one recipe so you can taste test which powder works best for you before you commit to the full size.
Checkout MyProtein Sample Packs here
Checkout Devotion Nutrition Sample Packs here
Best Practices For Baking With Protein Powder
Not all protein powder is created equal, and this is especially true when it comes to baking. Pea protein has a stronger taste which may mean you need to use less for some recipes, while too much whey can turn any baked good into cardboard. The key to baking with protein powder is to use the correct amount.
After creating 300+ protein-packed recipes, we've learned a thing or two about making healthy meals taste good. Here's our best advice for those just starting to bake with protein powder.
General Tips When Baking With Protein Powder
Only use ¼ cup protein powder as a replacement for flour – anything more will likely cause your recipe to be very dense and dry.
Lower your oven temp by 25 degrees when baking with protein powder
Protein powder scoops and serving sizes are usually ¼ of a cup, but this can vary. If you are using a different protein powder than what the original recipe is using, weigh the protein powder to avoid using too much/too little.
Don't over stir ingredients. Mix all other ingredients if you can and add protein powder last. Stir just until combined to avoid turning baked goods into hard, dense hockey pucks.

Protein powder is very sticky – use non-stick sprays to prevent a mess.

Don't overcook! Depending on how much you use, protein powders will not always act like flour or other dry ingredients. The traditional toothpick test may not work for some recipes as the center of some cakes, cupcakes, muffins, and others will always remain gooey.

Add ¼ – ½ cup of "wet" ingredients for every cup of dry – including protein powder. This will ensure enough moisture in the recipe and keep the final result from overly dry and dense. Unsweetened applesauce, pumpkin puree, greek yogurt, or cottage cheese work great!

Don't forget the fat! Be sure to incorporate healthy fat into recipes like coconut oil, butter, or even lard if you follow Paleo. Besides adding a moisture element, healthy fats will ensure your end result stays moist and not dry.
Depending on the recipe, try to use a binding substance like egg whites, whole eggs, or a combination of both. Otherwise, the finished product can be chalky and crumbly.
Plant-Based Protein Powder Baking Tips
Plant-based proteins are very absorbent. Make sure to tweak/add moisture elements in the recipe to avoid dry, dense, and rubbery desserts.
Most plant-based proteins don't come in a variety of flavors like whey proteins do. Depending on the recipe you are working with, you may want to add spices, flavors, and sweeteners as you see fit.
Pea protein's earthy flavor and texture pairs well with coconut, banana, and chocolate.
Most plant-based proteins contain a high amount of fiber which can bulk up recipes. You may want to consider using less flour or dry ingredients.
Don't be turned off by color changes. Plants contain chlorophyll which could turn some recipes a greenish color.
Whey Protein Powder Baking Tips
Whey-based proteins are not as absorbent, meaning the batter will not "set" or firm up like you may be used to. Be mindful of this (and how much whey protein powder you use) when baking things like energy balls, protein bars, or other no-bake recipes.
Most whey or whey/casein blend will come flavored. Make sure to adjust recipes according to what the protein powder is flavored with.

Be mindful of the ingredient list! Cheaper whey protein powder options are known to be full of fillers and artificial sweeteners that can ruin recipes' taste. While they can be expensive, going with a higher-priced power can lead to better tasting recipes overall.

Whey protein powder can turn baked goods brown quickly. Use aluminum foil for the first half of baking to prevent the top from drying out or burning.
Healthy Baking Substitution Tips
Be mindful of coconut flour! It is 3x more absorbent than regular flour, and when combined with protein powder, it can dry out recipes.

You can replace 2 T of sugar with ½ t vanilla extract.

If choosing a liquid sweetener like honey or agave, the exchange is 2:1. So for every 1 cup of sugar, you will need ½ cup honey or agave.

Honey is acidic. Add ½ t baking soda for every 1/2 cup honey to ensure you get a "rise" out of bread, muffin, and cupcake recipes.
Pantry Essentials When Baking With Protein Powder
Be ready to beat any craving with a protein-packed dessert by having these essentials on hand:
Food scale to accurately measure protein powder
Non-stick cooking spray
Moisture elements – unsweetened applesauce, bananas, greek yogurt, fruit/vegetable purees
Sweetener – stevia, xylitol, Swerve, Munk fruit, etc.
Oats – blend to make flour substitute
Healthy oils/fats – coconut oil, margarine, etc.
Cocoa powder and/or chocolate chips
Fat-free, sugar-free pudding mixes
Best Protein Powder Desserts & Recipes
The best protein powder recipes (especially for desserts) are those that easy, don't require a ton of expensive or hard-to-find ingredients, and don't take all day to make. Thankfully, we have plenty for you to choose from!
Check out our entire library of delicious, protein-packed desserts here, or grab a copy of our Ultimate Dessert E-Book.
We also have many other recipes for lunch/dinner, breakfast, and even snacks.
How To Use Protein To Reach Your Fitness Goals
Whether you are trying to lose weight, gain muscle, or stay healthy, protein is your ride-or-die companion to help get you there. Incorporating more into your diet is a great first step, but optimizing your protein intake can help speed up results. Learn more and find out how much protein you need by signing up for Avatar Nutrition today.