NEWSFLASH: The food you eat while dieting to lose fat doesn't have to suck!
Say goodbye to chewy chicken, tasteless Tupperware tilapia, and flavorless rice. With these macro hacks, you can enjoy your food while dieting to lose fat – and actually enjoy doing it!
1. Panic-Free Pasta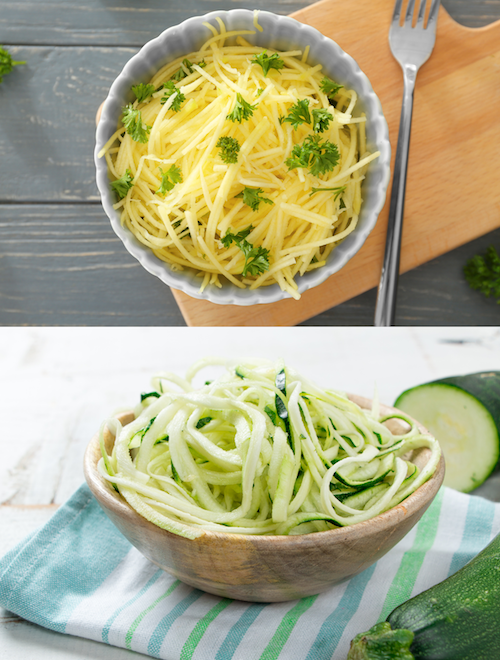 As your carbs drop, you may not be able to "afford" the carbs in regular pasta noodles. Luckily, there are lots of ways your favorite pasta dish can ditch the carbs and keep the flavor. Spaghetti squash and zucchini noodles are the perfect way to pack in micronutrients and volume without the extra calories. They soak up whatever flavor is in the dish, so you don't have to worry about it tasting bland.
Shirataki noodles, made from the Japanese konjac plant, are another great option for low-calorie pasta. While ordinary spaghetti has 26g carbs per serving, shirataki noodles have only 1g (and only 5-10 total calories per serving)! Just make sure to rinse and cook them well before adding to your pasta dish. For more pastas that are rich in flavor and low in carbs, check out these easy recipes:
2. Bargain Burgers
When it comes to burgers, the possibilities are endless! If you still have enough carbs to allow for buns, Healthy Life brand makes an excellent 80-calorie bun (0.5F/19C/4P). Or, if you can't make room for a bread bun, try swapping it out for grilled portobello mushrooms. Low-sugar ketchup and olive oil mayo taste just as good as the real thing but with substantially better macros. And of course, the leaner the beef, the better!
And even if you don't have the carbs for a bun, you can enjoy the mouth-watering taste of a burger with a "Big Mac Salad." (This one is an all-time favorite of mine.) Just load up a big bowl of lettuce, lean ground beef, a few pickles, tomatoes, low-fat cheese, and drizzle it with low sugar ketchup and olive oil mayonnaise. I promise it will blow your mind… and taste buds!
3. Pizza Slices of Heaven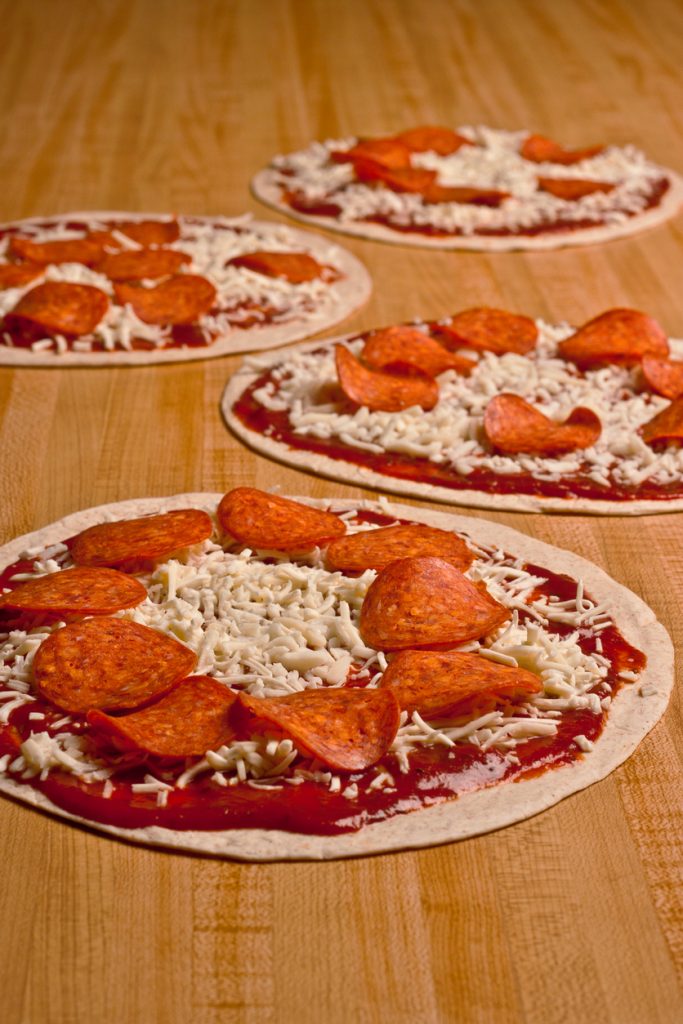 Sometimes you're on a diet but still want to eat a whole pizza. It happens to me all the time—and I've got the solution! Use a high-fiber, low-carb tortilla as the crust. (I like Extreme Wellness or La Tortilla Factory brands.) Put it on a greased baking sheet, add marinara sauce, low-fat cheese, turkey pepperoni, and whatever else you'd like. You can also go in deep on low-macro pizza crust by mixing cauliflower rice with an egg and a little flour. Get creative with it and have fun! Oh, and check out these awesome macro-friendly pizza recipes:
4. Low-Calorie Ice Cream
Low-calorie ice cream products have BLOWN UP in the last few years and making these creamy spoonfuls fit your macros is easier than ever! If you have relatively low carbs, I recommend Halo Top, Enlightened, and ProYo brands. If you're on really low carbs, grab some Arctic Zero and make sure to melt it for at least 10 seconds in the microwave before eating. You can also jazz it up with a protein brownie (which we'll get to soon!) and some low-calorie chocolate or caramel sauce.
Here's a quick hack for yummy, filling protein ice cream: Grab a blender and throw in some ice, protein powder, 30-calorie almond milk, stevia/Splenda, and just the tiniest dash of xanthan gum (too much will hurt your tummy, trust me on that). To make it creamier, you can add a tiny bit of the good stuff: coffee creamer, whole milk, etc. Adding frozen berries can also help make the consistency closer to regular ice cream.
5. Movie-Night Popcorn
No movie night would be complete without movie theater popcorn to snack on… except that movie theater popcorn is about 1,238,403,934 calories. (Okay, maybe a smidge less.) This is one of my favorite hacks of all time, and it's so easy! Pop a bag of low-fat popcorn in the microwave, then add a few spritzes of zero-calorie spray butter (not a TON—it does have measurable calories if you use a lot), sprinkle some salt in, and shake it up. BOOM, problem solved! Enjoy your movie with macros to spare!
6. Perfect Peanut Butter
One of the most shocking realizations when starting to track macros is discovering what a serving of peanut butter actually looks like. (Spoiler alert: it's tiny!) Fortunately, there's a way to trick your taste buds with a peanut butter substitute that tastes amazing! All you have to do is get some peanut powder (Jif brand has the best macros I've seen), add a little stevia/Splenda, and just a bit of water until it yields a peanut butter-like consistency. Spread it on a muffin, toast, oatmeal… whatever you'd like! Now you can save those precious fats for the rest of your day.
7. Dressings and Condiments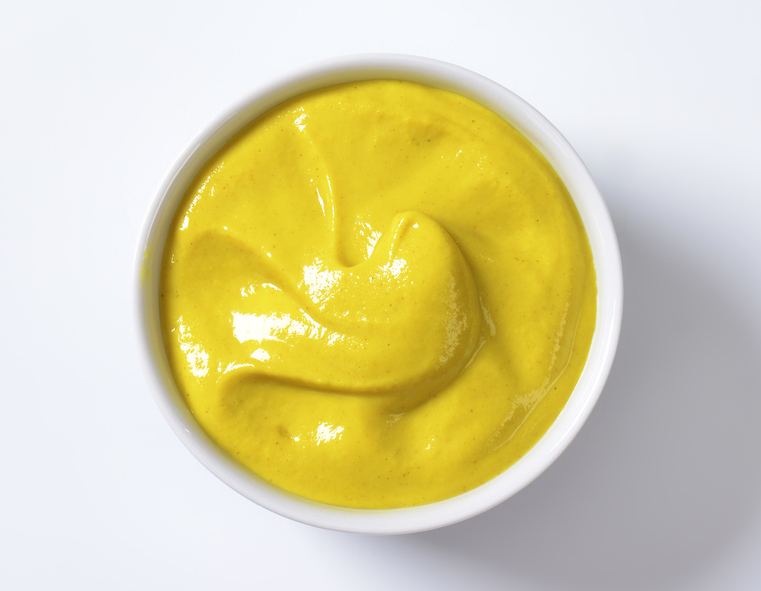 Low-sugar ketchup and olive oil mayonnaise are GREAT substitutions for the "real thing," and both are easy to find at the store. Mustard has zero calories and you can even add a little stevia/Splenda to make zero-calorie honey mustard. Bolthouse Farms dressings taste amazing and are all 35-45 calories per 2 tbsp—compared to the 140-170 calories in typical dressings. Walden Farms' pancake syrup is their most popular product and tastes incredible for zero calories. Next time you go to the grocery store, take some time to look at the various reduced-calorie items and judge for yourself if they are truly "worth the macros." You can almost always find something tasty that fits your needs!
8. Low-Carb Chips
Low-carb tortillas have so many uses, but maybe the best is turning them into chips! Lay a low-carb tortilla on a baking sheet coated with nonstick spray. Then spray a little nonstick spray on the tortilla itself and flavor it with salt and any seasonings you'd like. You can even make sweet chips by adding a little cinnamon and stevia. Bake for a few minutes at 350 degrees and watch them very carefully so they don't burn! The savory chips are great with salsa or hummus and the sweet ones are perfect with fruit dip!
9. Protein Brownies
Get ready for the easiest, quickest, and highest-protein brownie you'll ever make! It's a lifesaver for those late nights when you're craving chocolate but don't have the carbs and fat to spare. Put a scoop of protein powder (preferably not isolate) in a bowl with one tbsp of cocoa powder, stevia to taste, baking soda, and water. Mix until it's a brownie batter consistency. Then just heat it in the microwave for a minute or so until it's a little gooey in the middle. Voila! The perfect protein brownie awaits.
Now you've got some great tools for hacking delicious meals on budget macros. No matter what your tastes, flexible dieting—and a few clever tricks—can keep you making progress while eating however you want! Now get out there, try these macro hacks, and embrace the yum!
Interested in learning more? Follow us on Facebook, Instagram, Pinterest, and Youtube for more tips!